What's next for European Music?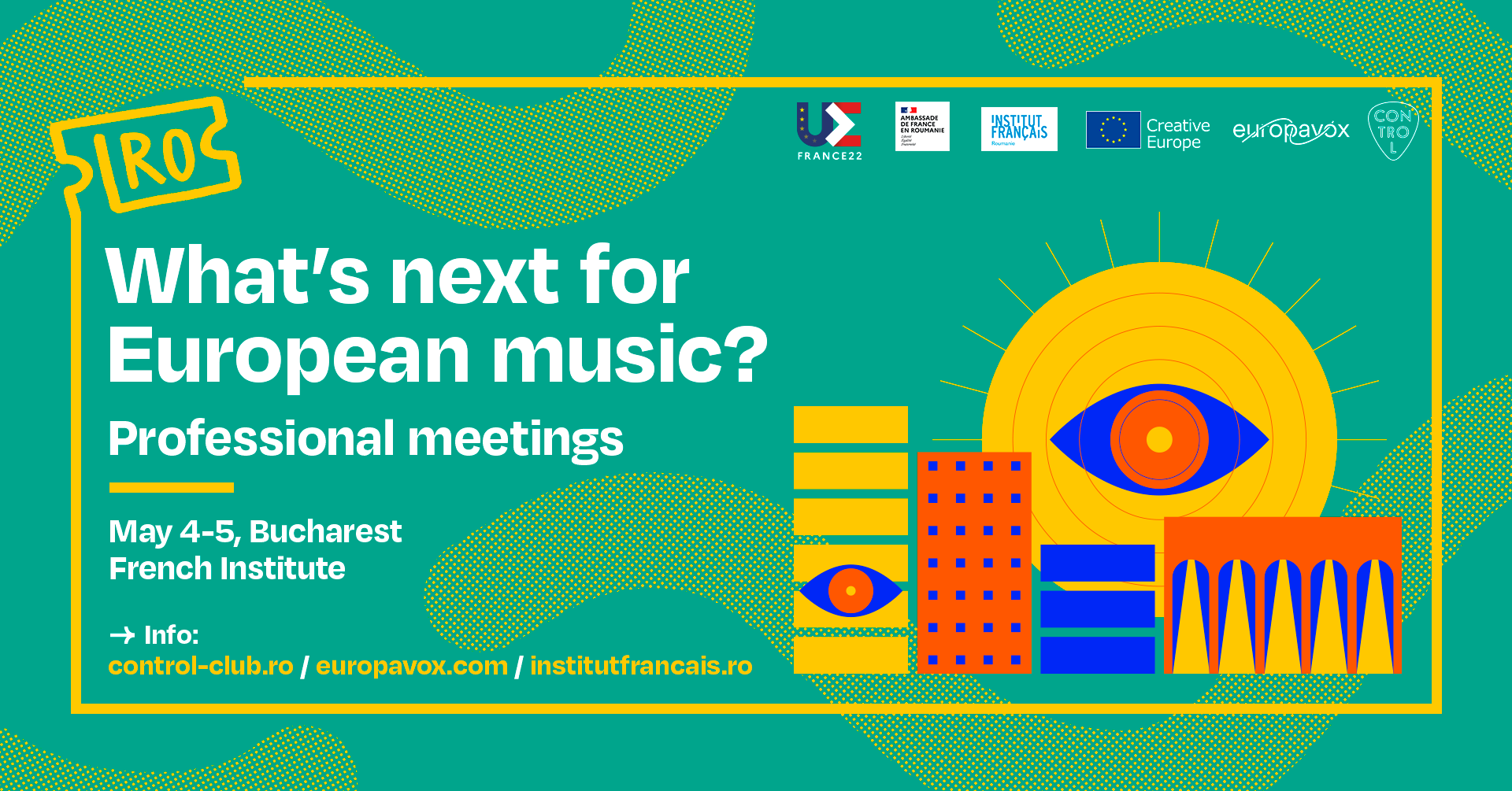 21 April, 2022 - 06 May, 2022
Categorie -

Festival
European opportunities in the field of culture
On 4th and 5th May, the French Institute in Romania and Europavox present "What's next for European music?": two days of exchanges, workshops and round tables addressing European cultural policies in an everchanging context, and their impact on artists mobility at a European scale. 
The meetings are addressed to cultural professionals and will take place at the French Institute on the occasion of the first edition of the Europavox Bucharest Festival, part of the Europavox 2020-2024 Project, co-founded by the European Commission.
Main topics:
Music sector post pandemic; opportunities in a new European framework
European funding opportunities
EU culture in solidarity with Ukraine: existing initiatives
Digitally speaking; leveraging new ways of interacting with audiences

Participants:
– Barbara Gessler, Head of Unit Creative Europe – European Commission (online)
– François Missonnier, Director Europavox
– Florin Oslobanu, Co-Owner Control Club
– Anca Lupeș, President RAW Music, Founder Mastering The Music Business
– Sorin Enuș, Coordinator CULTURE subprogram, Creative Europe Desk Romania
– representatives of the Ukrainian Cultural Foundation (online)
– Alona Dmukhovska, Co-founder Music Export Ukraine (online)
– Robin Ujfaluši, Head of the Czech Cultural Centre and President of the EUNIC Romania Cluster.

Free event, accessible upon registration until Monday, May 2nd, at invitation@institutfrancais.ro
The event programme is below.



Europavox Bucharest : Discover the artists of the line-up!
Artists from six European countries will perform in the first edition of the Europavox Festival Bucharest, bound to take place at Control Club, one of Bucharest's most popular live venues, between May 4-5. The highly acclaimed Swiss-born artist Sophie Hunger, British art-rockers Snapped Ankles, together with emerging European artists Emilie Zoé (CH), Lewsberg (NL), Jesse Markin (FI) and David Walters (FR) will play alongside local bands Zimbru and Balkan Taksim.
Europavox Festival Bucharest shows will start at 19h00 on both nights. Tickets for Wednesday, May 4 and Thursday, May 5, as well as festival passes are available via Eventbook.ro.